<! DIV style="WIDTH:92%"> <!BR>

Welcome to the Oktoberfest

September 16, 2023 - October 3, 2023


"O'zapft is - the barrel is tapped!"exclaims Munich's Lord Mayor after broaching the first cask of beer precisely at noon on Saturday, September 16, 2023, thus officially inaugurating the 188th Munich Oktoberfest. From then on the Oktoberfest beer, especially brewed by Munich's six major breweries for the greatest folk festival in the world, flows freely. For sixteen days Munich and much of the world is attracted to the Wiesn, the traditional festive grounds at the foot of the Bavaria statue. This huge amusement areal covers the area of almost 50 football fields.

The Oktoberfest experience includes merry-go-rounds and variety shows from bygone days, not to forget the adrenaline-boosting high-tech rides.

The Oide Wiesn (Vintage Wiesn) in the southern part of Theresienwiese offers pure nostalgia featering historic rides and a museum tent. The musicians of the Wiesn bands play Bavarian folk music to offer a wonderfully relaxed and laid-back start to a day at the Oktoberfest.



<!BR><!IMG src="mpool/p.gif" height=1 width=240 border=0><!BR> <!/p>


Opening Hours of Oktoberfest

Oktoberfest: Mo-Fr 10 am -11:30 pm, Sat, Sun + holiday 3.10. from 9 am. Free admission
Beer tents: Seats in the garden cannot be reserved.
In the tents non-reserved seats are marked.
Oide Wiesn (Vintage Wiesn): 10 am - 10:30 pm <! beverages are served 10 am - 9:30 pm.><!BR><!Admission 3 EUR, children up to 14 years free.>



<!/p> <!/DIV>
<!Plan>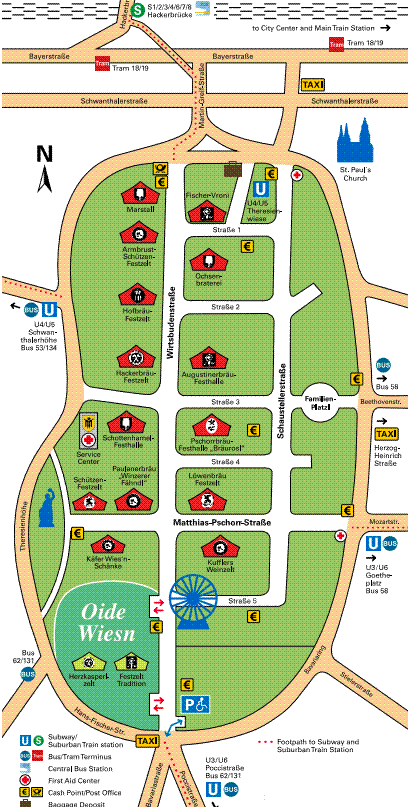 <!/p> <!bei Plan>